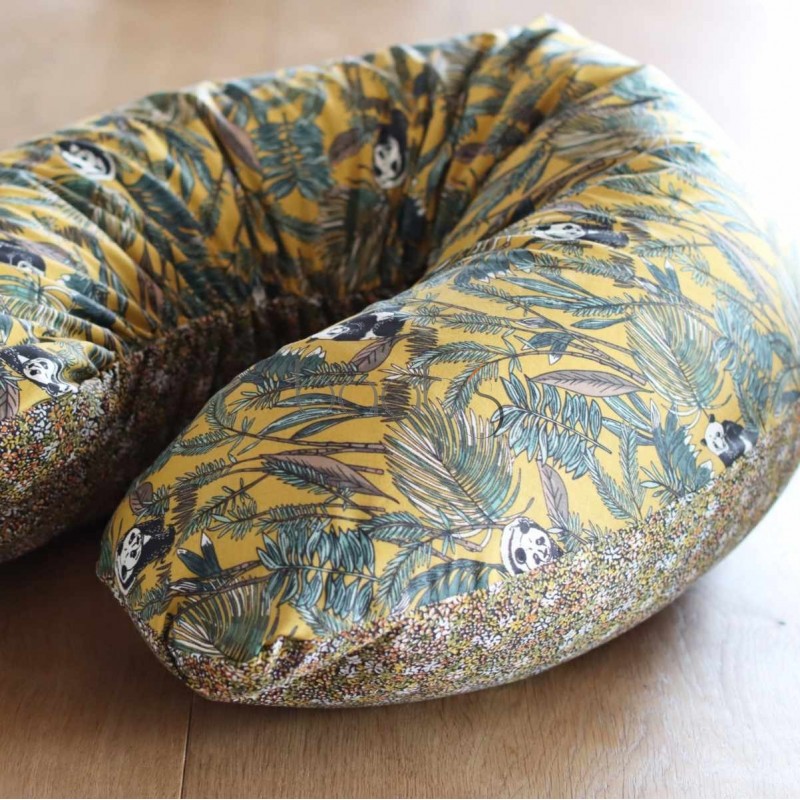  
The Reading cushion Panda
Specifically made for reading on book, tablet or computer, this cushion allows to wedge his forearms and wrists, as well as the book or tablet, to read without tension of the neck and shoulders. It can be used sitting in your armchair or lying on your bed. Positioned in the other direction it will be used for knitting or crocheting very comfortably.
Peals free of endocrine disruptors and fabrics oeko tex.

Small cushions: two weeks delay. Poufs: 2-4 weeks approx.
A lunar crescent-shaped cushion, elastic in the centre, shorter than the moon cushion. Ideal for people suffering from the shoulders or neck, as it is easy and light to position around the waist. It comfortably supports elbows, forearms and wrists.


Placed in front of you, on your knees, this reading pad allows you to read on a tablet, computer, reader, mobile or the right paper book without having to carry the weight.
Sitting on the couch or lying in bed, your forearms are placed on the cushions to avoid neck and shoulder tensions.

If you like knitting or making a work out of your hands, place the cushion in the other direction so that it cleans your kidneys, allowing you to stand upright and without back pain. The sides of the cushion support your forearms which no longer have to carry the work. Your shoulders will thank you.

You don't have to cross your legs or tilt your head to see that what you read or do, the pillow enhances your reading or work. This also relieves heavy legs.

It is recommended to place a footrest. The important thing is that your knees are higher than your pelvis so that it is in the retroverted position.

The reading cushion is shorter than the Moon cushion, and kept well rounded in its centre by an internal elastic. This is very important for seniors who would have lost in mobility shoulders. This form allows you to make no effort to place it around you.

In another style, it is very popular with gamers, it is necessary to know ;)
Rechargeable cushion to increase its life or simply modulate the density depending on what you prefer. Washable covers and cushions.


In brief a gift idea that changes and is really useful. A durable product that provides real reading or work comfort.
Data sheet
Weight

Ecographite 0.6 kg, Microbilles 1 kg, Mixte 1.3kg (environ)

Size

135 cm sur l'arrondi extérieur, reste arrondi dans sa forme, 40 cm au centre

Compositions

Housses coton, garniture aux choix

Entretien

Housse lavable à 60°. Coussin mixte lavable à 40°, coussin microbilles graphite ou polystyrène 60°

Qualité

Rechargeable et modulable. Housse externe amovible