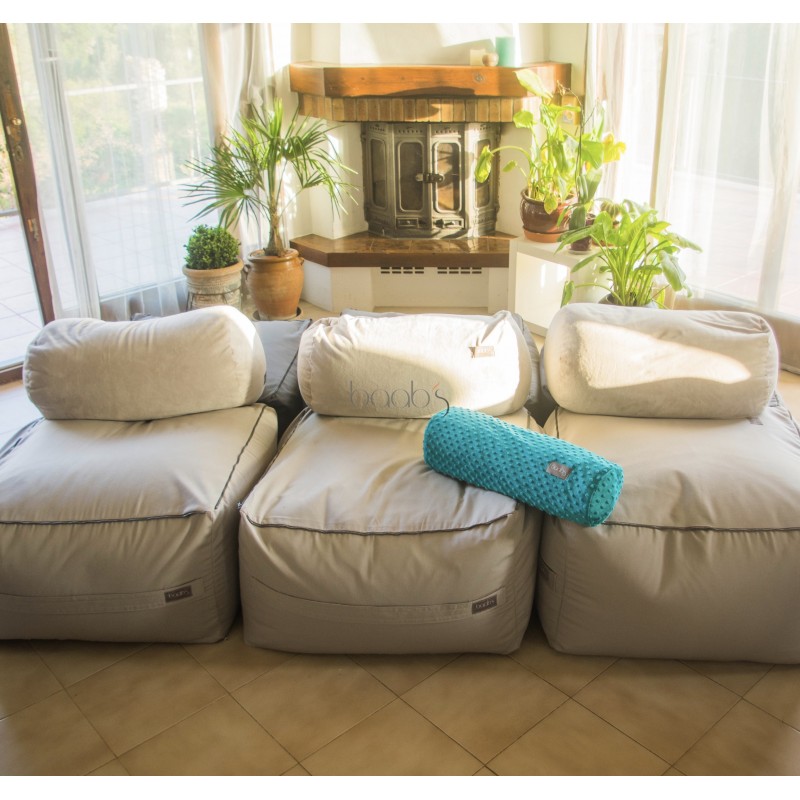  
The Cube
A truly modular sofa: assemble the modules together, choose your filling and your colors. Child's play and total comfort. Cocooning embodied in the form of a sofa!
Peals free of endocrine disruptors and fabrics oeko tex.

Small cushions: two weeks delay. Poufs: 2-4 weeks approx.
Like all our products, this one was born out of desire and designed with enthusiasm. Want a pouf, idea to make a modular sofa, and enthusiasm to see our children adopt them immediately.
These water-repellent and UV-resistant Dralon poufs can be used both indoors and outdoors. This fabric, which is both soft and supple - unlike some beanbag fabrics which are plastic - is very pleasant to live with. To preserve it, it is better not to leave it in heavy rain and prefer to maintain it with a sponge rather than a washing machine.
The modules zip together to give them the desired shape. With two or three to create your sunbed or a daybed.
From three cushions, a sofa is born. Complete it with Zippered Patches, or Triangles to put on it, and your sofa truly personalized to your comfort is born.
With us, the children like to put them on top of each other to make a "tiered" sofa and each have their own space. As for me, when we watch a movie as a family, I like to put it on the ground and lean against it.
Placed on its edge, it makes a very comfortable seat because the pelvis is retroverted, which relieves lumbar pain.
From 600€ we make you 10% on the order, and payment in 3x free of charge possible. Our products are guaranteed for 1 year, and can be repaired for life by our workshop at the cost of postage + €5, because we make and want products that last.
The living room, the terrace or the garden, become these places of laughter, creativity, cocooning, change, rest that we want when we get home. Our sofa frees itself from its shackles and becomes modular, so simply that a child can position it to their liking. At the same time, with an architect-designer dad and a seamstress-entrepreneur mom, it was a tight fit.
Products tested for 18 months with the family: Certified by us Kindproof, Dogproof and Katproof*
Rechargeable cushion to increase its lifespan or simply modulate the density according to what you prefer. Removable. It is recommended to wash the covers with a sponge rather than in the washing machine to preserve the Teflon coating.
Choose your cover and filling.
In short, another idea of ​​the sofa, which will why not become the norm...
* Resistant to the onslaught of children, to the jumps and naps of the dog, and to those of the cat. More discreet, the cat's naps, but his hair does not deceive, he was there too. And his hair goes very well with a roller for clothes for example.
Data sheet
Height

45 cm

Width

77 cm

Depth

77 cm

Weight

6 à 12 kg selon remplissage