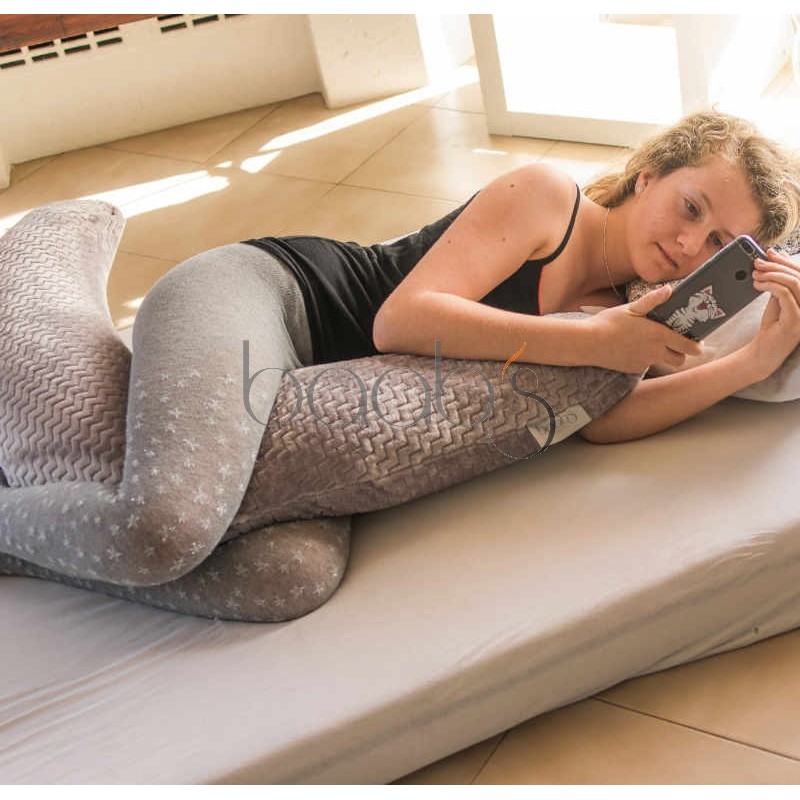  
The Cushioned Bean
If you find our pillow moon too long, and our pillow reading too short, here's your happiness. The bean is long enough to allow a child or adolescent to sleep with it, and short enough not to be disturbed by its long arms. Available in many cotton models, you can also customize, to your colors, size, and materials.
Nos billes sont sans perturbateurs endocriniens et nos tissus okotex.

Envoyés dans la semaine sauf pour l'option sur-mesure dont le délai est confirmé par mail.
Like the moon pillow, but smaller. It is ideal for people under 1m60 or less, roughly, or simply for those who think the Moon is too long. Perfect for sleeping cushions or for sitting on the sofa, as well as for back cushions.
Products to be matched:

- 40/40 Deco cushions

- Pillows in 60/60,

- Minky duvets or ultra soft bed linen

- Adhesive fabric

Well installed in your bed or on the sofa, this versatile cushion allows you to adopt many comfortable postions.

By sleeping with you relieve your back or sciatic pains.

To read it will be very useful, placed on the legs to support the book or the computer.

It is also very appreciated for positioning itself after an operation or in recovery, as well as for removing pressure points when there is a risk of slipping.

It can also be used as a nursing cushion, or as a pregnancy cushion for moms up to about 1m60 or less, or simply for those who don't want a cushion that's too long.  

You can choose between several internal fillings, below a link to guide you. In terms of color and fabric (almost ) everything is possible: select a color on the screen (photos and drop down menu) or look at our "fabric and custom" tab at the bottom of the site to see our many possible colors, compose your cushion and its cover.
Rechargeable cushion to increase its life or simply modulate the density depending on what you prefer. Washable cushions and covers

Choose your cover in stock or customized to your colors and your filling
In brief a versatile cushion for sleeping, relieving back pain, reading, and also useful to future mothers for pregnancy and breastfeeding. It is also very appreciated in convalescence after an operation for example
Data sheet
Weight

Ecographite 0,8kg, Microbilles 1 kg, Mixte 1.4kg

Compositions

Housses okotex coton-minky-outdoor, garniture aux choix

Size

150 cm sur l'arrondi extérieur, 120 cm mis droit, 30 cm au centre

Entretien

Housse lavable à 60°. Coussin mixte lavable à 40°, coussin microbilles graphite ou polystyrène 60°

Qualité

Rechargeable et modulable. Housse externe amovible